Zesty Sofrita Tacos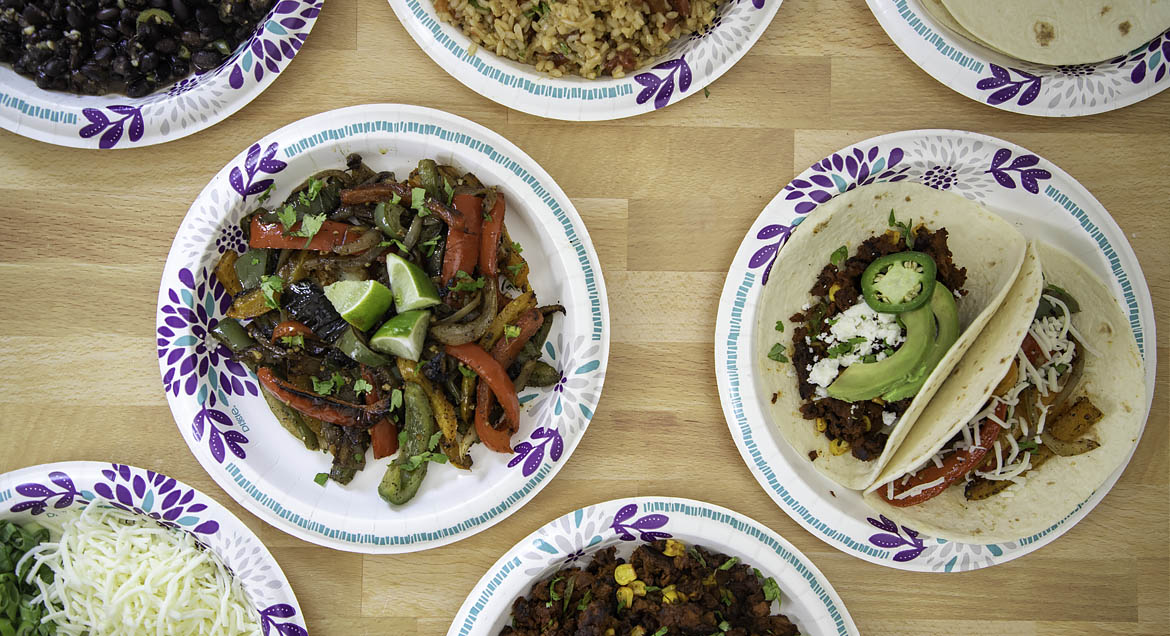 Meatless Monday meets Taco Tuesday with these tasty and healthy Soy Chorizo veggie tacos! Get ready to please the whole family and taste the rainbow with an assortment of colorful, fresh veggies. If you can't find soyrizo or prefer a substitute, other meatless options like firm tofu or seitan can be used.
 
What You'll Need:
2 Links of Soy Chorizo or 1 package of firm tofu
½ Cup of Canned Corn (or Frozen!)
2 Tablespoons of Olive Oil
1 Bunch of Green Onions
4 Limes
2 Jalapeños
1 Bunch of Cilantro
½ of a Large Yellow Onion
1 Red Bell Pepper
1 Orange Bell Pepper
1 Green Bell Pepper
2 Tsp of Dried Oregano
1 Tsp of Salt
1 Tsp of Ground Black Pepper
1 Tsp of Cumin
1 Clove of Minced Garlic
For the Rice & Beans:
2 Tablespoons of Olive Oil
1 Clove of Minced Garlic
1 Tsp of Cumin
1 Tsp of Onion Powder
1 Cup of Brown Rice
2 Cups of Water
1 Can of Tomatoes & Green Chiles
1 Can of Black Beans with Adobo Sauce
Minced Cilantro (optional)
Salt to taste
For Serving:
Sliced Jalapeno
Sliced Green Onions
Avocado Slices
8-10 Flour Tortillas
Limes
Minced Cilantro
Shredded Cheese or Crumbled Queso Fresco
Directions:
Prepare Spanish Rice & Black Beans: Place two medium or small saucepans on the stove and set both to medium heat. To each pan, add
1 tbsp of Olive Oil
.
(Not so) Hot Tip:
When slicing the jalapeno, cut around the pith to remove all the seeds for less spice/heat.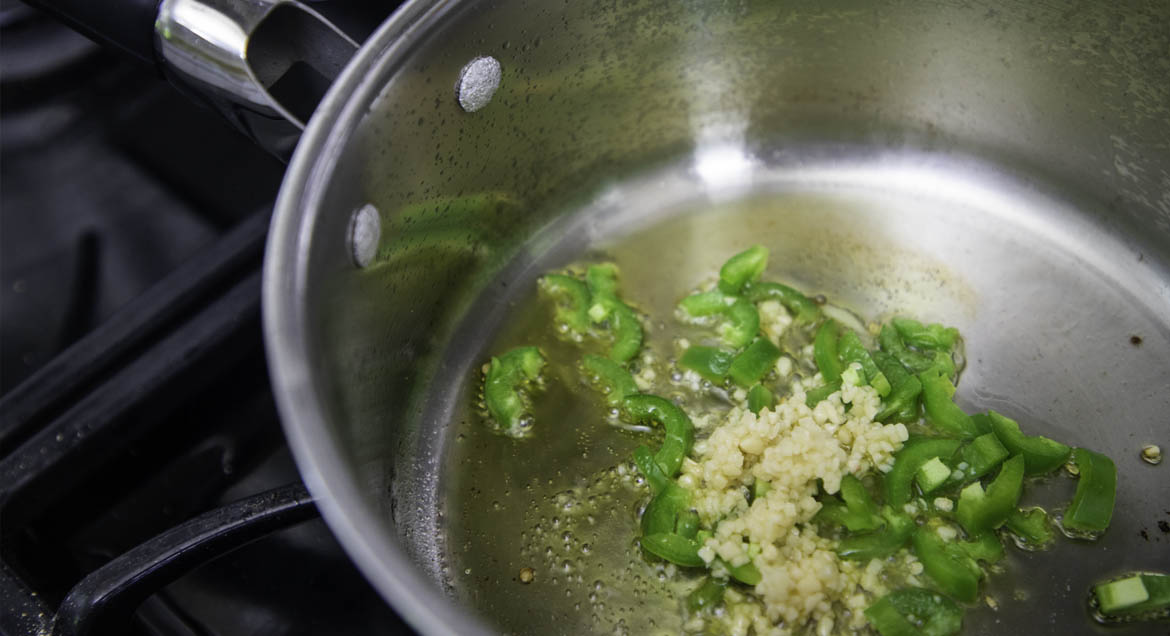 In one pan, add in 1 clove of minced garlic and one sliced Jalapeño and cook until the Jalapeño is softened the minced garlic is golden brown and fragrant as shown. Add in the Canned Black Beans with Adobo Sauce and reduce heat to low and simmer, covered, for 10 minutes.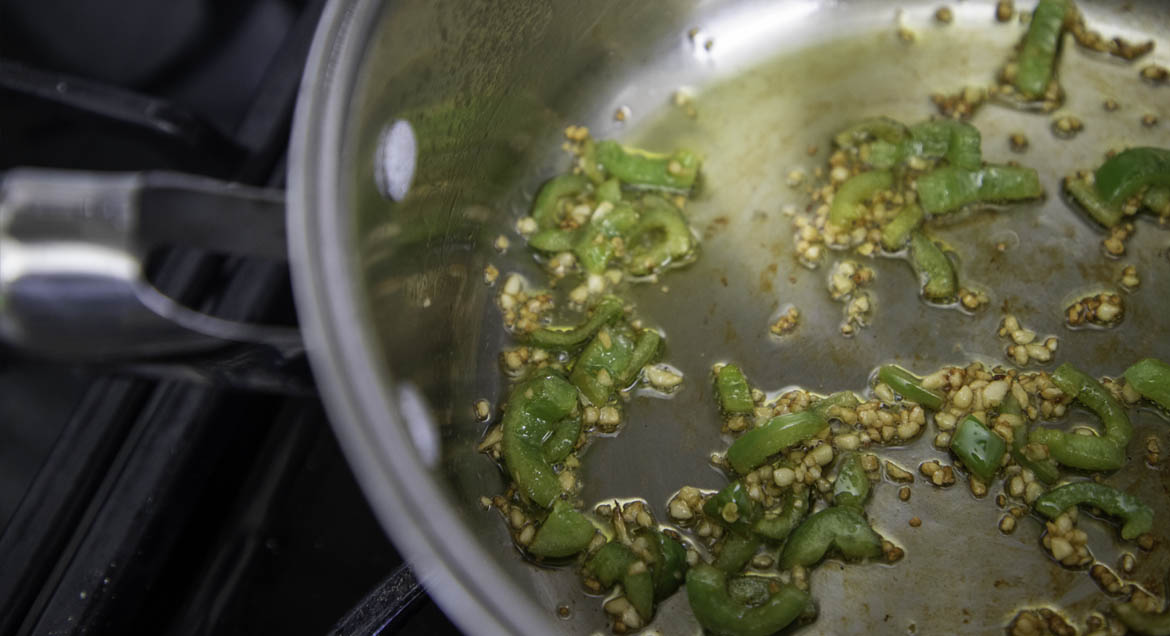 In the other pan, add in 1 clove of minced garlic and the brown rice to the heated Olive Oil and lightly toast the rice (optional). Add in 2 cups of water and 1 whole can of Diced Tomatoes with Chiles and bring to a boil. Once it reaches a boil, reduce heat to simmer and cook for 20 minutes or until all the liquid is absorbed. Once fully cooked, add in 1 tsp of Cumin, 1 tsp of Onion Powder and Salt/Pepper to taste.
While that cooks, prepare your veggies: Slice tops of Bell Peppers off and carefully cut along the pith and core as shown. Slice yellow onion into ½" strips.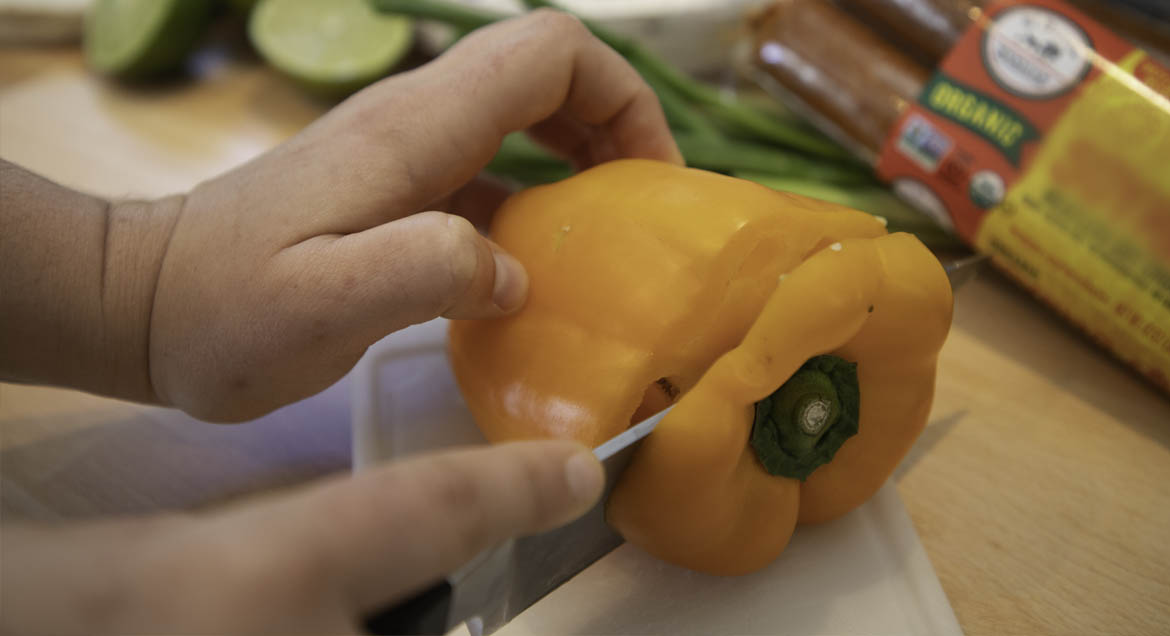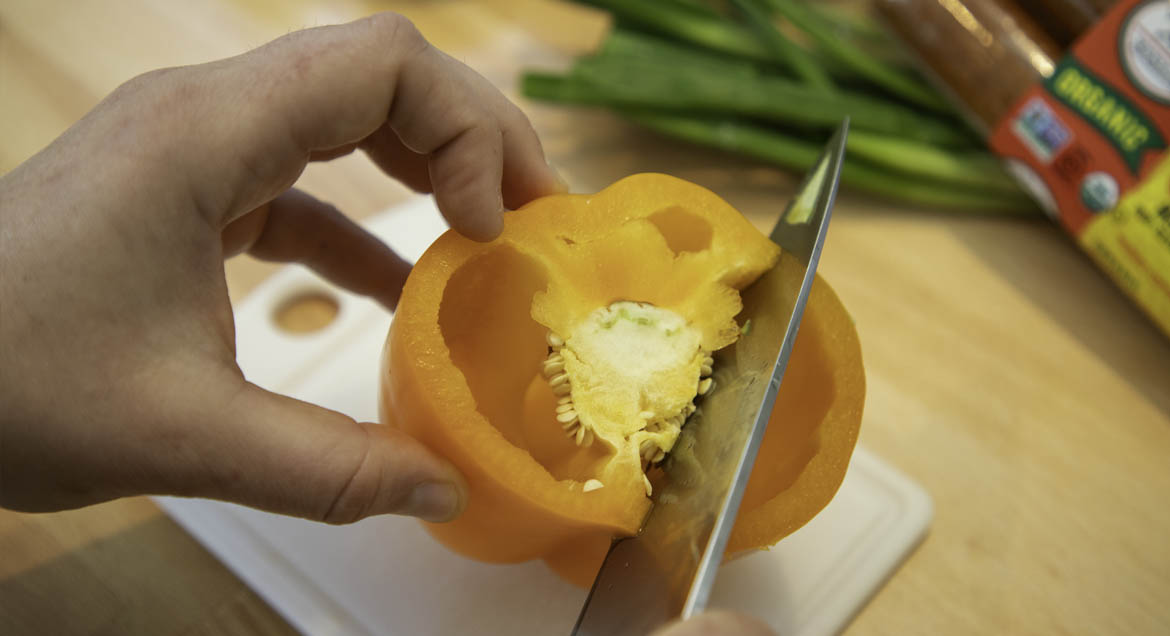 Add 1 tbsp of Olive Oil to a frying pan set to medium heat. Add in Dried Oregano, Salt, Pepper, Cumin and the sliced Onions and Bell Peppers and cook until softened, about 5 minutes. Optionally, for more heat, you can add one sliced jalapeño. Cook until peppers begin to blister and develop some charred edges. Then, reduce heat to medium low and add Minced Garlic and cook until lightly brown and fragrant. Remove from heat and set aside.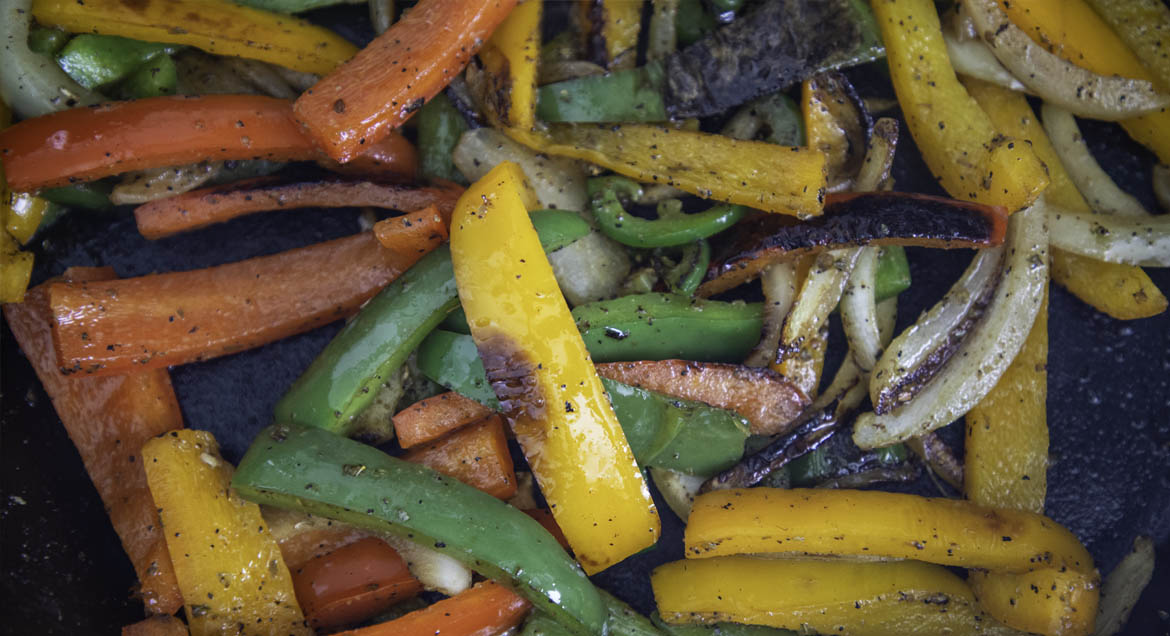 Add 1 tbsp of Olive Oil to a frying pan set to medium heat and add the Soy Chorizo and ½ a cup of Canned Corn to the pan. Cook until the Soy Chorizo is crispy. Remove from heat and toss with ¼ cup of Sliced Green Onions.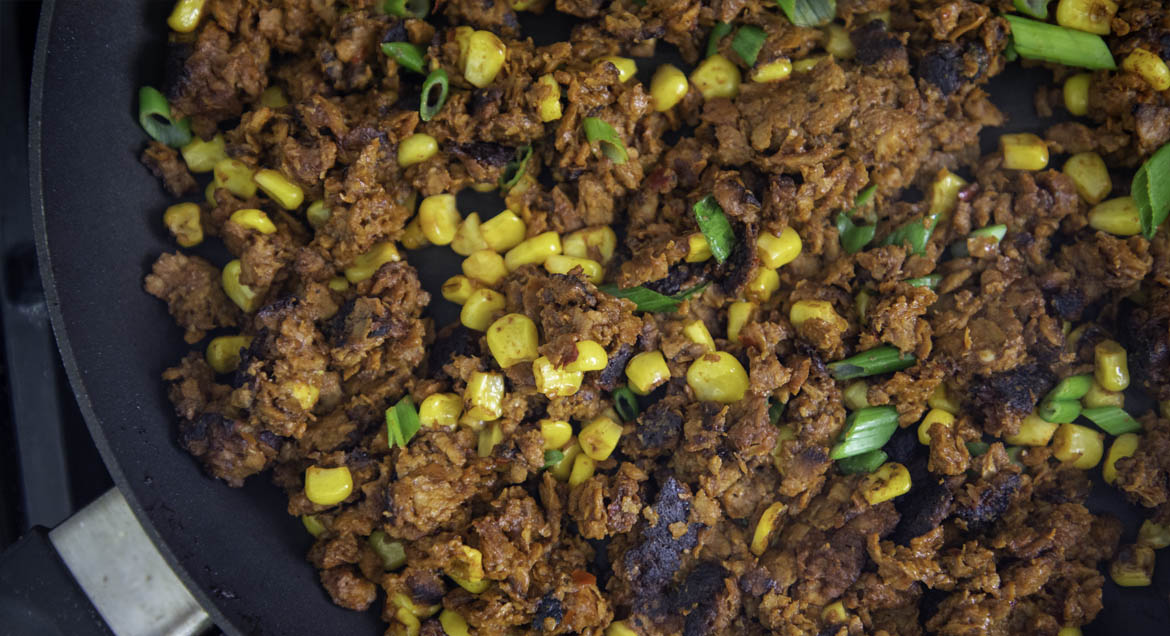 Time to serve! Plate the Spanish Rice, Black Beans, Soy Chorizo mixture, Fajita Veggie Mixture, Tortillas & Toppings on individual Dixie® Everyday Plates and let the whole family build their own tacos! You can also combine the veggies and soy chorizo mix for an extra flavorful taco. Enjoy!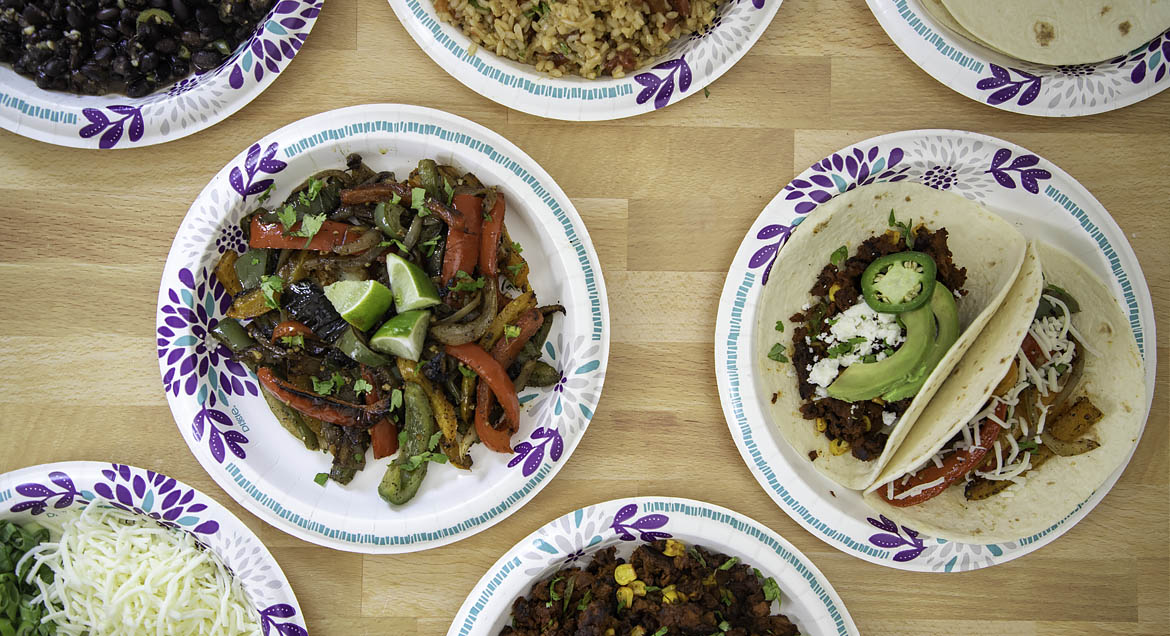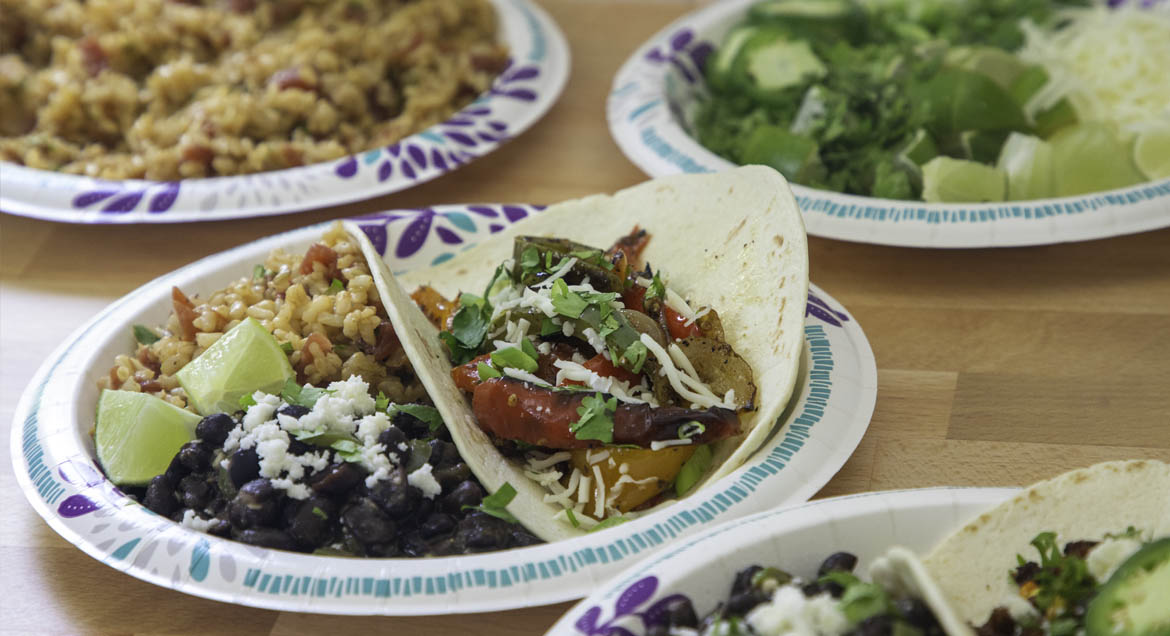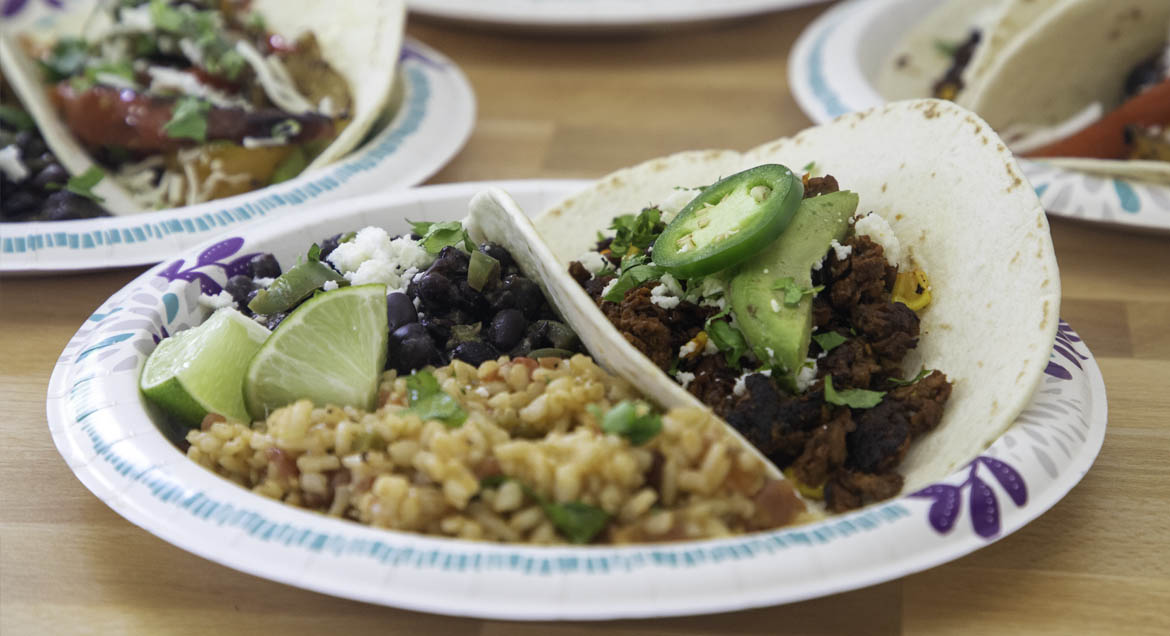 For coupons, tips & tricks and more content like this from Dixie®, sign up for our mailing list below.