Ingredients:
2 cups of Ice
1 cup of Whole Milk
4 Tablespoons of Hot Water
4 Tablespoons of Matcha Powder
2 Tablespoons of Granulated Sugar (optional)
Whipped Cream (optional)
Additional Matcha Powder for dusting (optional)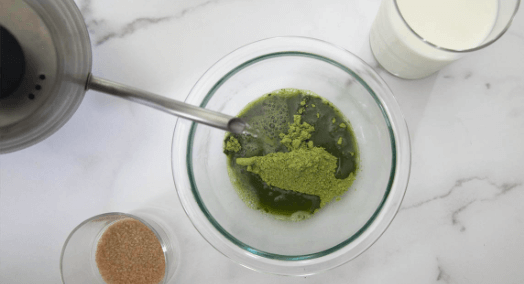 DIRECTIONS:
Step 1:
Create Matcha tea concentrate by combining 4 tablespoons of hot water and 4 tablespoons of Matcha powder to a small bowl and whisk to combine.
Step 2:
Combine ice, whole milk, granulated sugar and Matcha tea concentrate into a blender and blend until smooth.
Step 3:
Pour frozen blended Matcha tea beverage into a Dixie® To Go cup. Top with fresh whipped cream and a dusting of Matcha powder for a frosty, decadent afternoon pickme-up. Enjoy!
Helpful Tip:
Make sure to shop around to find a Matcha powder that's of good quality as that will affect the flavor and nutrient density (make sure sugar and powdered milk aren't the first ingredients).