Ingredients:
For the Cold Brew:
1 Cup of Coarsely Ground Coffee
3 Cups of Filtered Water (divided)
3 Tablespoons of Heavy Cream (optional, for serving)
1 or 2 qt jar with screw top lid
For the Simple Syrup:
3-4 sprigs of Fresh Rosemary
½ Cup of Granulated Sugar
1 Cup of Filtered Water
Fun Tip:
Try the simple syrup recipe with other ingredients like ginger, pink peppercorn, mint or basil. Your herb garden is the limit when it comes to experimenting with new flavors!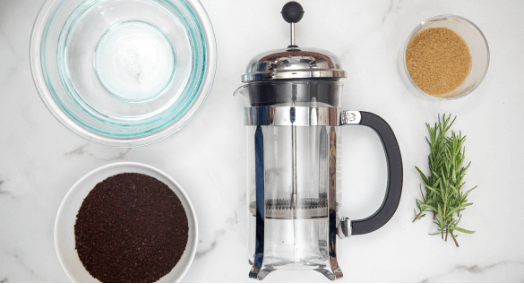 Directions:
Step 1:
Prepare Rosemary Simple Syrup by combining ½ of Granulated Sugar and 1 cup of Filtered Water into a medium saucepan set over medium-high heat. Allow the water to come to a simmer and whisk to ensure the sugar dissolves completely. Add in the sprigs of fresh rosemary, cover with a lid, and let steep until syrup comes to room temperature. Cover and store in fridge for up to 3 weeks. This is also a great sweetener for Iced Tea!
Step 2:
To make the Cold Brew, fill a French Press or a 1or 2-quart jar with a screw top lid with the ground coffee and water. If necessary, mix thoroughly until the ground coffee is completely saturated. Place the lid on the French Press and let sit on the counter for 12-24 hours.
Step 3:
The next day, combine ½ cup of Cold Brew Concentrate with ½ cup of Filtered Water to dilute. To serve, pour cold brew over ice into a Dixie® To Go cup. Top with a splash of Heavy Cream and a splash of Rosemary Simple Syrup and enjoy!